Parting Thoughts: Anthony Harrell discusses time at Florida (Pt. 1)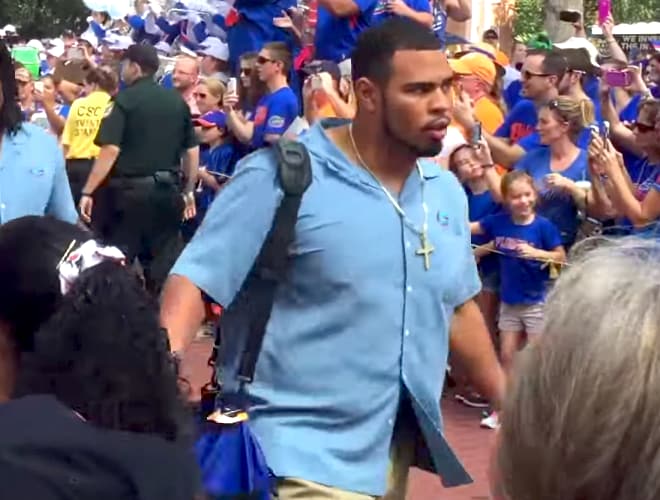 After four seasons at Georgia Tech, graduate transfer linebacker Anthony Harrell opted to enroll at UF over the summer and follow in the footsteps of his father, James Harrell, by suiting up in a Gators uniform in 2015. During his final collegiate football season, Harrell played primarily on special teams for Florida, finishing with three tackles in 13 appearances.
Following an impressive showing at the East-West Shrine Game two weekends ago, Harrell was nice enough to take time out of his schedule and speak with Inside the Gators as we kick off our annual "Parting Thoughts" series.
Throughout the offseason, we'll speak with a handful of graduating seniors and departing juniors about their experiences at Florida as well as an array of other noteworthy topics.
Today, we kick off our 2016 edition of the series talking with Harrell about his experiences at Florida, his time at the Shrine Game and what's in his future plans.
First off, how was your experience playing at the Shrine Game in St. Petersburg, Fla.? What did you gain the most from the whole experience?
Harrell: It was great to get out there, considering I didn't really play too much at Florida behind Antonio Morrison and Jarrad Davis. It was a great experience to finally get to show that I could still play, because I transferred to Florida and didn't play too much and played special teams. So it was great to get out there and prove myself that I could play with an elite level of guys.
It was great to go see the kids at the Shriners Hospital. Visiting those kids makes you feel appreciate for everything that we have. Some of those kids are missing legs, arms, can't walk or whatever and stuff like that, so it was great on that part to go interact with those kids. They really enjoyed having us. It just makes you really appreciate life more.
Then the game, practice all week – all the scouts were out there, so it was great exposure for us. Great coaches - Sam Madison, Mike Alstott, Charlie Weis, my dad was the defensive coordinator. They just taught how to refine techniques. Different coaches have different terminologies, so it kind of prepared you because it's the next level. One team might call it this, and the next team might call it a different verb. The experience is going to get you prepared, because everybody is going to have a different system. Pretty much, you have to adapt quickly and catch on to new stuff and new words and new play calls and all that stuff.
One of the most memorable moments of the Shrine Game was your third-down interception on former Western Kentucky quarterback Brandon Doughty during the opening series of the game. Break down what led to you picking off Doughty on that play.
Harrell: They ran a slant route and they ran a running back on the flare route, which is a common route. So pretty much he's looking at me, so I baited him – I had the running back in man, but I was looking at the quarterback – so I acted like I was going toward the running back, but I kind of planted my foot and froze and then jumped back to the right. I was going left, I jumped back to the right and froze and then saw the receiver coming in. And he threw it right to me.
What plans are next on your agenda from here on out?
Harrell: I talked to a lot of teams at the Shrine Game – probably 20 NFL teams. I talked to a lot of scouts, I don't even know how many scouts I talked to. All the questionnaires and all that stuff. I'm on the board, so now it's really about this Pro Day. I've got Pro Day on March 22. I had a good showing at the Shrine Game, so now really all of my focus is on getting ready for Pro Day. I feel like if I have a really good Pro Day, my stock could rise and I have the possibility of getting drafted. If I'm a free agent, I'll get invited to camp -- I'm pretty confident in that. It's really just that I've got to seize the moment and have a good Pro Day and the opportunities are endless from there. It's all in my hands. I've got to get my highlights together and send them to the coaches, and I've got to meet with the coaches. My agent will probably get me set me with teams and visits.
Looking back at it, what factors really led you to choose to transfer to Florida last summer?
Harrell: My dad played there first of all and graduated from there, my sister graduated from there. It's close to home. They have a good grad program. Coach Shannon recruited me at Florida, so I had a good connection there. I wanted to get out of Georgia Tech because things weren't going as far as I planned. It was a great opportunity, especially with Antonio Morrison coming back from the torn ACL. Of course, he ended up coming back in six months, being one of the hardest workers I ever met. It was a bright situation for me there. I felt like since he was out, recovering from a torn ACL it usually takes about 8-9 months. But he came back in six. But I just looked at it as a great opportunity to come in, compete and get some playing time. Coach McElwain, I know he had great success coming from Alabama and I knew that Florida could be turned around.
What would you say was your best memory from your year playing for the Gators?
Harrell: I guess winning the East - getting our side of the SEC back after not winning that for a while. So I guess winning our side of the conference, that was a pretty big moment. Winning the whole SEC East, to be able to win that and get back on the map and get recognized again by people who forgot about Florida for a couple of years there, it was great to be a part of bringing back the Gators. It was great to be a part of the class that re-established the Gators and put them back on the map. Moving forward, I think Florida has a great future ahead of them – great, young players coming in and there right now that are going to be top draft picks, first-rounders next year. It's a great building block for them.
Is there anything you wish that could have gone differently during your season at UF?
Harrell: I wish I could have played more on defense, but I don't blame them for not playing me. The guys ahead of me, they were playing at an exceptional level. There's nothing you could really do about it. You have Antonio Morrison about to go in the second round – probably a projected second-round linebacker right now about to play in the Senior Bowl. You also have Jarrad Davis who could have entered the draft, so I mean I can't be mad about the situation. The guys ahead of me, they were good, so you just have to wait on your time to be called. Unfortunately, it didn't get called on the defensive side, but I accepted my role as a team player and did what I had to do on special teams. I started on a lot of special teams, and a couple plays when I did get in on defense I feel like I played to BDN standards – that's what we call ourselves, best defense in the nation.
Was there any point in the year though where you were truly frustrated about your role?
Harrell: Yeah, you've got to look at the big picture. I was frustrated a little bit at first seeing that I transferred there. But at the end of the day, you can't really point any fingers at anybody really. There's no one to point the finger at, because we're winning, the defense was top five in the nation. There's nothing really you could do there. You've just got to go with it. I learned a lot from it.
The greatest thing about going to Florida was the SEC, I feel like our defense – a lot of those guys are going to the NFL. It was great to play with elite players and learn from Coach Shannon more concepts, ways to get to the ball faster, play recognition. Just a lot of keys that I learned from Coach Shannon at the end of the day. Even though I didn't get to play a lot, he was a great coach on me in practice. I got plenty of reps in practice. He taught me film study, keys to look at and things like that that I could grasp now I use in my future going forward. I didn't have that before, so I learned new things that I could use moving forward pretty much.
Come back Tuesday for part two of our interview with Harrell, as he gives an array of in-depth evaluations on a handful of Gators currently on the roster heading into the 2016 season.