Redshirt Report: Jabari Zuniga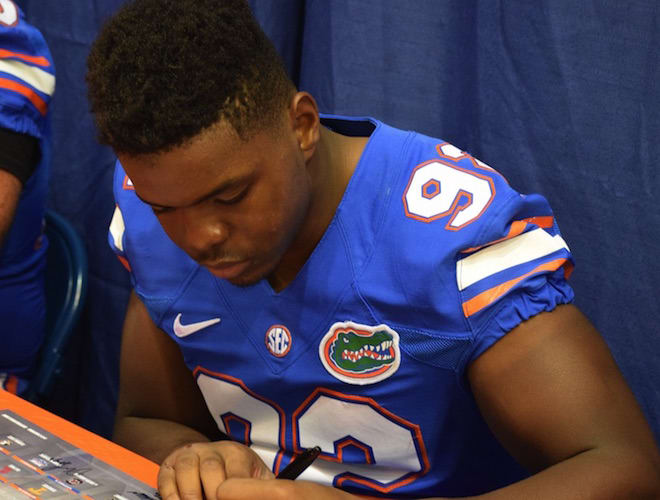 Leading up to spring practices, Inside the Gators will take an in-depth look at how last season went for Florida's 2015 signees who redshirted. Today, we begin our annual Redshirt Report series with a profile on defensive end Jabari Zuniga.
Once Zuniga flipped his commitment from North Carolina State to Florida – and Gators fans got a glimpse of the former three-star defensive end's dynamic game film – many believed UF might have found a diamond in the rough.
And now a year later, following a 2015 campaign where Zuniga redshirted and spent most of his time in practices on scout team duties, the buzz is still strong around the 6-foot-3, 263-pound Marietta, Ga., native.
Especially during Citrus Bowl preparation, the praise for Zuniga was plentiful from teammates like cornerback Jalen Tabor and rush end Jordan Sherit, when both were asked about which freshmen stood out to them during those December practices. Graduating seniors Josh Grady and Anthony Harrell also were high on what Zuniga brings to the table during their interviews with ITG for our Parting Thoughts series.
While Grady calls the "tall, strong, cut up" Zuniga somebody who's "going to be a baller," Sherit labeled him as a "high-motor guy."
"He's still kind of new to the game, learning new things each and every day," Sherit said back in December. "I think just from an athletic standpoint, he has tons of potential. Coach Rumph's going to get every ounce of that out of him. Right now he's playing end. You know how it works here. The older you get, you're going to get bigger, slowly move inside. Who knows? I think he's a guy who's probably going to stay an end. He has great quickness off the ball. He's a great player, a physical guy."
Really, Sherit's description of Zuniga's talents matches the same tone of how Sprayberry High School football head coach Billy Shackelford detailed Zuniga, his former player who played three years of varsity football.
"It did not surprise me that he redshirted," Shackelford said. "I don't know that a lot of people know this, but Jabari is actually young for his age. He actually should have been a senior in high school this year. He graduated a year early. A lot of guys are a year more mature and all of that, but Jabari didn't have that luxury. That's why I knew that an extra year of the weight room, growth and maturity would be very beneficial to him. I saw that between his junior and senior year of high school. If I had him for one more year, he would have been an animal.
"He's still a puppy. When he grows into a big dog, he's going to be something special. I'm starting to see that he's having some success down there with scout team and all that, so great things are ahead."
Zuniga put his speed and physicality on display as a scout-team standout this past season. He served primarily as a strongside defensive end but in some cases saw some time at tackle, depending on the personnel grouping of the upcoming opponent.
"He does some really nice things with his hands, being able to lean and leverage. I think that creates some problems," Shackelford said. "He's a big physical guy. One of his attributes is that he's really long with his arms. I know the NFL puts a premium on length of the arms just for separation.
"He plays with an aura about him that 'I want to beat the guy in front of me.' You'd be surprised that not all players have that mentality. They don't always want to compete or expect to win or have that mean streak in them, so I think that makes him special."
Considering defensive coordinator Geoff Collins and defensive line coach Chris Rumph got a decent number of players involved in the rotation last season – even as many as 10 or 11 some games – Zuniga projects to see some playing time as a redshirt freshman in 2016. Florida loses the versatile Jonathan Bullard and rush end Alex McCalister but returns a host of talent along the defensive line, including defensive ends Bryan Cox Jr., CeCe Jefferson, Jordan Sherit, Keivonnis Davis and Justus Reed, as well as defensive tackles Caleb Brantley, Joey Ivie, Taven Bryan, Khairi Clark, Thomas Holley and Luke Ancrum. Florida also brings along defensive ends Antonneous Clayton, Jachai Polite and early enrollee Jordan Smith from this past recruiting cycle.
If Zuniga continues to improve and physically mature, a role for him in the rotation should come sooner than later.
Many fans haven't had the chance to watch Zuniga or truly get to know the former Sprayberry High standout. Shackelford said that the Florida fan base will like what they see from Zuniga – both on and off the field.
"One thing that's neat about Jabari is he's really a soft-spoken guy," he said. "He's really quiet. In an era where kids like to talk and tell everybody how great they are, Jabari's not that type of guy. He's really a soft-spoken kid. He doesn't say much. I think that's kind of neat and unique. He's kind of a gentle giant.
"But I will say this – he does turn into an animal when he puts that helmet on."
UP NEXT:
Luke Ancrum
----
2016 PARTING THOUGHTS:
Josh Grady Parting Thoughts: I | II | III
Anthony Harrell Parting Thoughts: I | II
ALLEY EXCLUSIVE:
**Ask former Florida QB Josh Grady any question you want about Gators Football**
RELATED LINKS:
• Getting to Know: Jabari Zuniga
• Class of 2016 Great Eight Signees
• Signing Class Positional Grades - Offense
• Signing Class Positional Grades - Defense
• Impact Analysis: What Treon Harris moving to wide receiver would mean
• Class of 2016 Recruiting Superlatives
• Take Five: New Gators defensive backs coach Torrian Gray
• Video | Florida adds offensive firepower with Cleveland
• A closer look at Florida's post Signing Day football roster
• Coaches talk signees and early enrollees