Redshirt Report: Kalif Jackson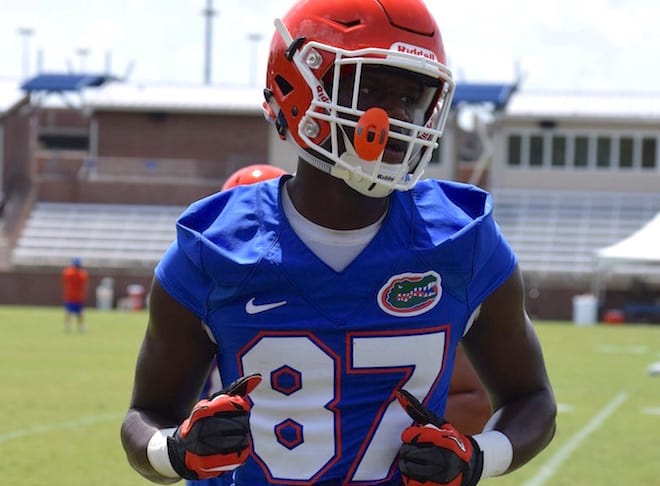 Leading up to spring practices, Inside the Gators will take an in-depth look at how last season went for Florida's 2015 signees who redshirted with our Redshirt Report series. Today, we focus on how last season went for wide receiver Kalif Jackson.
When Jackson joined the Gators football team in January of 2015, the 17-year-old three-star wide receiver signee was only one of two early enrollees at the time to start classes at UF during the spring semester.
The other, tight end Daniel Imatorbhebhe, transferred from UF to USC about only five months after enrolling. Once a pack of new arrivals entered the mix over the summer, Jackson officially had the most time to get acquainted with the new coaching staff among the 2015 class.
But when he arrived in Gainesville, the former Neptune Beach (Fla.) Fletcher High School standout was a bit raw. At 6-foot-4 and about 184 pounds when he arrived in January 2015, Jackson needed to bulk up and polish plenty of aspects about his game.
To do so, he needed more time than just the spring in order to be ready to see the field. Ultimately, he redshirted – and greatly benefitted from the experience.
"We keep joking that he was on the top of the food chain in high school to the bottom of the food chain when you get to college," said Jackson's mother, Brenda Priestly Jackson. "He kept his spirit and energy up. He gave it his all in practice when he worked on the scout team. After he settled in, he realized after a few games that redshirting was best for him. Then, he kind of gave his best. He did well during practice, he did extremely well in his classes.
"As his parents, we were happy that he had the chance to adjust to the college life, to focus on academics, to learn Coach Mac's football scheme."
While Jackson redshirted, wideouts like Antonio Callaway, Demarcus Robinson, Brandon Powell, Chris Thompson, Ahmad Fulwood and Valdez Showers received the bulk of the snaps in the rotation. Throughout his first year as a Gator, Jackson saw plenty of his opportunities come on scout team, where he faced the first-string defense on numerous occasions.
"Every day he went up against the first-team defense," said Jackson's father, DeAndre Jackson. "Every day, there was Vernon Hargreaves and all of these guys. That really made him better. He was determined to show Coach Mac that he was very competitive. That helped him, because he knows that he can play with these guys, because every day he went up against first- and second-rounders."
Throughout his freshman year, Jackson made plenty of progress physically as well. In addition to growing about a half an inch, he now weighs in the range of 218-222 pounds, according to his parents.
But in the classroom, Jackson, a political science major, achieved plenty of success, finishing as one of 22 Gators football players on the SEC Fall Academic Honor Roll.
"He's earned like 30-32 credits since he's been at the University of Florida. He had like eight credits that he transferred in," Brenda Priestly Jackson said. "He's taking a full load while he's been there. He has been focused on that, staying attentive to his classes and everything. We don't have any complaints."
Florida is still in active search of playmakers at wideout but does have more options to choose from in 2016 than what was the case last year. Callaway, Powell, Thompson, Fulwood, C.J. Worton, Alvin Bailey and Ryan Sousa are others who return, while UF added early enrollees Josh Hammond, Dre Massey and Freddie Swain to the mix at the start of the spring semester. Tyrie Cleveland and Rick Wells will join the team this summer.
Jackson will have a chance to compete among those receivers for snaps. His father believes his son brings a lot of positive attributes to the table at the wide receiver position.
"He's very dense. He doesn't look his weight or his height," DeAndre Jackson said. "He's a long strider. He has a very high vertical jump, his arms are very long, he has very broad shoulders.
"First of all, he has very large hands. He's a physical receiver. He's going to put his hands on you and he's got very strong legs. One of his roles is to fill in that physicality."