Redshirt Report: Luke Ancrum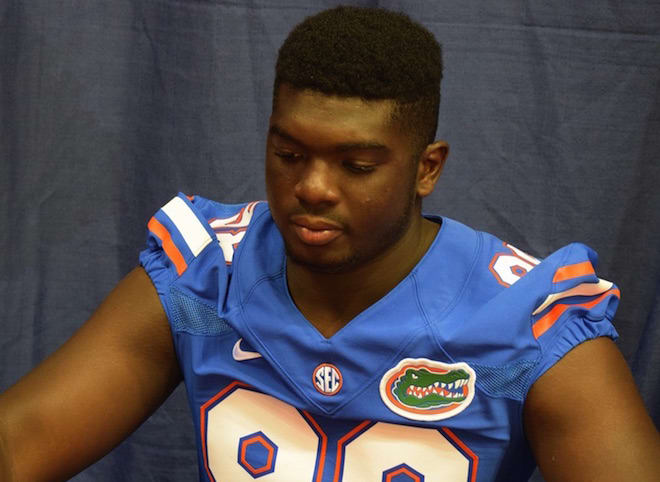 Leading up to spring practices, Inside the Gators will take an in-depth look at how last season went for Florida's 2015 signees who redshirted with our Redshirt Report series. Today, we take a look at how last season went for defensive lineman Luke Ancrum.
A big goal for Ancrum during his redshirt season in Gainesville was filling out his long, 6-foot-5 frame. With the coaching staff envisioning Ancrum - a two-star recruit who played defensive end in high school - as a defensive tackle long-term, the Sebring, Fla., native knew he needed to add some bulk when he arrived at UF at about 240 pounds last summer.
Ancrum still has more work to do in the weigh-gaining department, but so far he has made considerable progress since playing at about 220-225 pounds during his senior year of high school. Currently, he's at 267 pounds since beginning offseason workouts and conditioning, after arriving at UF for the 2016 spring semester at about 275.
"I'm glad they really decided to let him redshirt because he really needed it," Ancrum's father of the same name said. "He's really excited because that year of practicing really has given him the ups. His confidence is really up. That's something we've talked about. Not once has he said he's wanted to come home, leave school. The new coaching staff is really great. Coach Mac is really great. He'd call every now and then to just let us know how he's doing. Coach Rumph lets us know how he's doing.
"In high school he primarily played defensive end – last year of high school," he continued. "With the personnel that they had, they moved him down inside. It kind of helped him that he can stand up and put his hand in the dirt. I think Coach Rumph has primarily put him on the inside. They did a lot of recruiting at defensive end. He's not a typical defensive end – he's gained a lot of weight. I expect him to be 300 pounds by next year. So defensive end wise, I don't think he has the speed for that. But he really enjoys inside and he said it's a lot tougher. But I think that's primarily where they're going to play him."
For Ancrum, filling out his frame - and adjusting to carrying more weight on the field - has been another transition, in addition to learning how to play defensive tackle at the college level.
"I think he's feeling out his comfort zone now with his weight, because he's never been this big," said his mother, Sherita Ancrum. "So he's trying to control the weight that he's gained and the muscles that he's put on. I think after this year here, he'll be able to know what his comfort zone is, where he's strongest at and where he's quickest at. What he can and can't do. I know when he stepped to about 280, he was uncomfortable."
As a defensive tackle, Ancrum saw a considerable amount of time during practices this past season on scout team duties. But when the depth along the interior of the defensive line took a hit during the home stretch of the regular season, there were some practices where Ancrum received some work with the second-string defense.
"Some of the coaches said he's right there. I was kind of scared that he might not get redshirted because he was doing so great," the elder Ancrum said of his son's time on scout team.
"He was really ecstatic that he actually got to practice with the starters. That really helped him out a lot with getting acquainted to the speed of the game. Coming out of high school, there's a difference between preparing in college. He was really excited about that, he was excited about gaining some weight – he really put a lot of weight on. I talked to him twice a week, he was always telling me something new he learned. Got his butt kicked a couple of times, but that's part of being a freshman. He was really excited about a fresh semester.
"Learning a lot of stuff, he actually got to dress a lot as a redshirt freshman. Of course he didn't play but he's really excited about dressing and just being a part of the Gators. Football wise, he's excited about getting into the rotation this year."
Despite losing versatile lineman Jonathan Bullard to graduation, the Gators still return a very deep and talented defensive line for the 2016 season. Caleb Brantley and Joey Ivie project to start, with third-year players Taven Bryan, Khairi Clark and Thomas Holley expected to back them up. With Florida not landing a natural defensive tackle in its 2016 recruiting class, as Shavar Manuel flipped to FSU on National Signing Day, Ancrum will have plenty of opportunities to compete against the aforementioned trio of backups for live-game snaps next season at defensive tackle.
In Ancrum, Florida has a promising defensive lineman with plenty of more room to grow.
"I think his potential to be better and bigger and stronger," Ancrum's father said. "He hasn't played much D-tackle in high school so he's kind of green at it and I think he's shaping and molding. His potential level is going to be very high. What he's going to bring to the table? He's going to bring you 150%. He hates to sit the bench and he's just one of them kids who's a student of the game. I told him he has to keep that chip on his shoulder. He came in as a three-star, a lot of schools looked over him. Florida State looked over him. He hates to lose. I just expect for him to playing with a chip on his shoulder. Hopefully he gets in the rotation this year."
Added Sherita Ancrum: "He's excited about his progression. He's so confident that he tells me, 'Mom, I'm going to be starting next year. Just watch me when I get on the field.' So he's super enthused."
As far as aspects of Ancrum's game that he wants to continue to polish, at first his father mentioned his overall quickness and his first step.
"That's a difference - standing up at defensive end," he said. "He's going to have to work on his footwork on the inside and all of the hand moves as far as hand-to-hand combat so that's something he was saying he really wants to focus on. I think he said he wanted to work on staying low, keeping the shoulder pads very low. He'll be able to accomplish what he sets his mind to. That's what he said he wants to work on - foot speed, hand-to-hand combat."
When asked about what Gators fans will find out about Ancrum's personality once they become more familiar with the redshirt freshman tackle, his father described him as a "joker off the field" but a player who doesn't kid around when the pads come on.
"He likes to tell jokes, he likes to play, but he's very serious on the field," the elder Ancrum said. "He's learning how to turn that switch on and off as far as when it comes down to handle business. But off the field, he's a practical joker. Really good kid and I'm not just saying that because he's my son.
"He did a lot of huge stuff in our church when he was here. He actually worked with the toddlers. A big giant like that, 6-6 200-something pounds, working with toddlers so he would take them out to the playground. He loves kids, just a really good kid. He definitely learned how to turn that switch on and off."