Redshirt Report: Nick Buchanan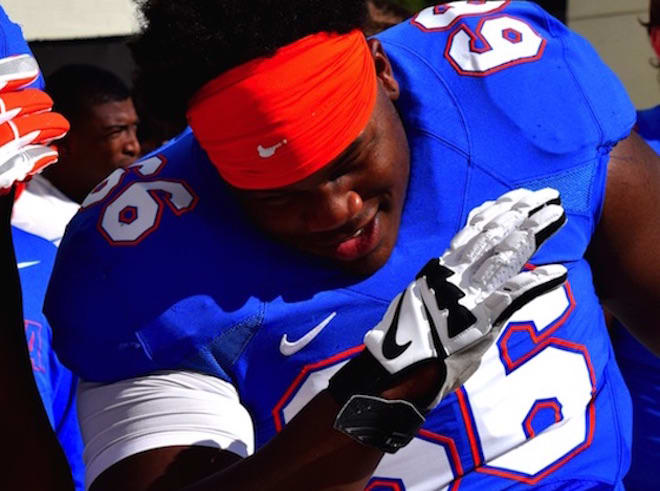 Leading up to spring practices, Inside the Gators will take an in-depth look at how last season went for Florida's 2015 signees who redshirted with our Redshirt Report series. Today, we focus on how last season went for offensive guard Nick Buchanan.
Like plenty of his other fellow freshmen, after he arrived at UF last summer the 6-foot-2, 285-pound Buchanan needed a redshirt year to add some strength to his frame and improve his overall game.
Overall, taking a redshirt has benefitted Buchanan in a big way, according to former Dunwoody (Ga.) High School head coach Jim Showfety, who exchanged plenty of texts with Buchanan throughout the 2015 season.
"He was also coming off an ankle injury. He had ankle surgery last year, after last season," Showfety said. "He hurt it, I guess, around the eighth or ninth game of the year. He did have ankle surgery and several months of rehab. I think unless there was a desperate situation where they had to have him, I think in the long run it will do him good to have redshirted. So I think the injury plus getting his body ready, it just made a whole lot of sense for him to go that route."
During his first season in Gainesville, Buchanan spent plenty of his time in the weight room to reshape his body. It has paid off, with him weighing about 300 pounds currently.
"Nick was a kid in high school – he always worked extremely hard. He didn't really come into his body until the summer before his senior season," Showfety said. "He really took off and got a lot stronger, a lot bigger, a lot more powerful. He always worked really hard but just didn't have the strength to go for it. Going into his senior year, he really started to get a lot stronger and all the work he put in in the weight room started coming to the surface.
"Knowing now he's coming into his own strength-wise and going along with his work ethic, I think that's going to be a pretty good combination at the college level. I would expect him to get a lot stronger. As far as his physical size, I think it kind of varies from program to program. Some teams like linemen really, really big if they can get others a little lighter or more mobile. Nick always had very, very good feet. For a guy his size, he moved well and I really think he'll be in the mix this coming year."
This past season, Buchanan often worked with the second-team offense during practice – mainly at right guard. However, Trip Thurman, Martez Ivey, Tyler Jordan and Antonio Riles saw the majority of the snaps in the rotation in 2015 at both guard spots.
At Dunwoody High, Buchanan played primarily at tackle on the offensive side of the ball but also saw some snaps on defense.
"He played tackle for us," Showfety said. "I'll tell you, when we got in defense, he did a lot of good things defensively as well. I think a lot of coaches think he could be just as good as a defensive player. He's obviously a very, very good offensive player. He was primarily a tackle. I do think, like I said it's not for me to decide, I think as well as Nick moves and the type of leader he is, I wouldn't be shocked if somewhere down the road, he might be a guy they look to at center but I don't know what they're personnel situation is. If they plan on using him at guard, I think he'll do a great job."
When it comes to aspects of Buchanan's game he needs to polish the most moving forward in his Florida career, Showfety points to his pass protection ability.
"We were mainly a run-oriented football team in high school," he said. "He's very good coming off the ball in terms of run blocking. The one thing he probably didn't get enough of in our high school program is NFL-style pass protection. Hopefully, that's something he's really focused on during his redshirt season. If there's one area as an offensive lineman, I would say he didn't get a ton of work at pure, drop-back pass protection. We did a lot of play-action passes, but we didn't really sit back there in the pocket like a lot of teams do. So that's probably the one area that he has the most room to improve at Florida."
But in Buchanan, Showfety sees a hard-woking, high-character football player who can serve a leadership role for the offense down the road in his college career.
"First of all, he's a great leader," Showfety said. "For our team his senior year, as I've told many people, we lost a lot late in the year when he got injured. We not only missed him on the field as an offensive and defensive lineman, we missed his leadership as much as anything. And I think at some point, I would expect him to become one of Florida's leaders in their program. It might not be that time just yet but I think by the time he graduates I would fully him to be one of the leaders in the program knowing his personality and how he works. I just think he's such a great kid to have in a program.
"Early on if you don't really know him, he can appear to be a pretty quiet guy," Showfety continued. "He comes to work and does his job and doesn't say a whole lot. But as he becomes more and more involved in the program, you'll see his personality come to the surface. I would imagine his freshman year, this past year, he wanted to prove to everybody that he belonged there. I think now that he's hopefully done that, he may start to become a little more vocal.
"Most importantly, he's just a kid who's going to represent your program very, very well. A hard worker, a great worker, a lot of character, a very good student in the classroom. Great parents that brought him up the right way. I think when it's all said and done, Florida is going to really get some good things out of him in their football program."
This offseason, like plenty of others Buchanan will have a shot at earning a role in the offensive line rotation at guard. Florida loses Thurman and tackle Mason Halter to graduation but returns tackles David Sharpe and Fred Johnson, center Cameron Dillard and guards Ivey, Jordan and Riles back to the mix.
There will be some competition to help round out the rotation at guard, as Buchanan will battle for snaps against those latter three, as well as fellow freshmen Brandon Sandifer, Richerd Desir-Jones and redshirt sophomore Travaris Dorsey. This summer, UF adds two freshmen interior linemen, Brett Heggie and Jawaan Taylor, to the fold.
"I think he feels like there's an opportunity there to get on the field for 2016," Showfety said. "At a school like Florida, you're going to have a great deal of competition but at the same time, he's got a very strong work ethic."
UP NEXT:
Richerd Desir-Jones
PAST REDSHIRT REPORTS:
2016 PARTING THOUGHTS:
Josh Grady Parting Thoughts: I | II | III
--In-depth look at Florida Football: Subscriber Q&A with Josh Grady I | II