Redshirt Report: Rayshad Jackson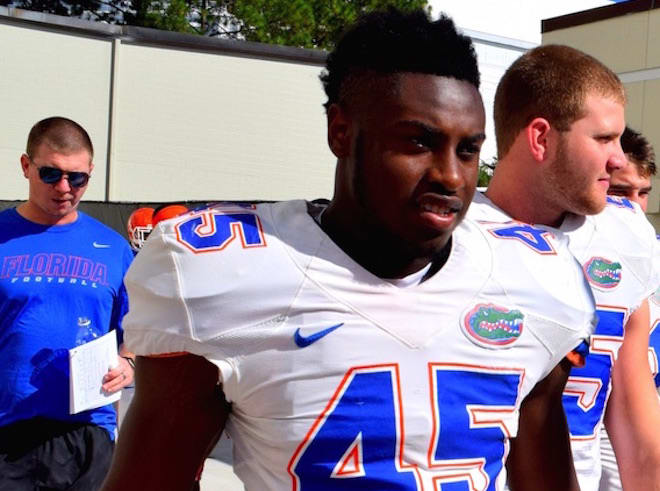 Leading up to spring practices, Inside the Gators will take an in-depth look at how last season went for Florida's 2015 signees who redshirted with our Redshirt Report series. Today, we focus on how last season went for linebacker Rayshad Jackson.
In not even one week officially on his new job, Florida linebackers coach/co-defensive coordinator Randy Shannon sent out an offer to Jackson, whom he offered while he was at Arkansas.
Shannon, also a Miami Norland High School alum, saw plenty of talent in Jackson, an under-the-radar two-star recruit. Not too long after receiving his Florida offer, Jackson made the decision to follow Shannon to Gainesville.
"They've got a good relationship," Miami Norland head coach Daryle Heidelburg said. "Coach Shannon can relate to Rayshad a lot. He knows where he came from, playing the position. Everything that Rayshad is trying to achieve, Coach Shannon has done already. He's a great mentor for him."
Ultimately, the Gators viewed the 6-foot, 221-pound Jackson as a developmental project at linebacker when they brought him along over last summer. A dynamic pass rusher at Miami Norland who was named to the 2014 All-Dade County Second Team, Jackson saw most of his time in high school at defensive end.
In order to make the transition from rush end to outside linebacker at the college level, Jackson needed to learn plenty. Because of that, taking a redshirt made sense.
"He was undersized playing defensive end, and he did need another year," Heidelburg said. "He did play some linebacker for us, but he was such a gifted pass rusher for us. We just kind of got spoiled with just keeping him out there rushing the passer. Now that he's at Florida, he's changed to linebacker. That transition is kind of the main reason why he needed that extra year."
During his first year in Gainesville, Jackson spent a lot of his time at practice on scout team duty and off the field in the weight room working on getting stronger.
"He was always in good shape, but he did learn at the University of Florida that it's a whole different type of shape to you need to be in for college to go up against those bigger guys," Heidelburg said. "That's something that he didn't mind getting into in high school. He was always in the gym working out in the weight room. But he really had another purpose for it once he got to Florida."
In Jackson, Heidelburg sees a tenacious football player with plenty of room to grow moving forward into his college career.
"His tenacity – he's to the football on every play," Heidelburg said. "He's really not a vocal guy – it's not going to be his vocal leadership – but he definitely leads by example. He's always going to do what he's told, but he's not really the vocal rah-rah guy."
As far as an area of his game that Jackson needs to improve, Heidelburg highlighted his former linebacker's coverage skills.
"As far as him playing in space, that'll be something that he didn't have to do much of in high school," Heidelburg said. "Especially playing in the SEC, it's all so spread open and wide open. So he's going to need to tackle and play in space."
If Jackson can take his game to the next level this offseason, there's always the chance he could see a role in the rotation as a redshirt freshman in 2016 if he proves himself worthy. At linebacker, Florida loses Antonio Morrison, Jeremi Powell and Anthony Harrell but returns Jarrad Davis, Alex Anzalone, Matt Rolin and Daniel McMillian. The Gators added early enrollee David Reese to the mix this spring and could even play safety Kylan Johnson some at linebacker down the road.
2016 three-star signees Jeremiah Moon and Vosean Joseph, a fellow Miami Norland grad, are set to join the team this summer.
"With Vosean coming up there this year, that's more familiarity," Heidelburg said. "He'll turn into a role where now he's guiding Vosean along. That'll make him more of a leader."
UP NEXT:
Andrew Ivie
PAST REDSHIRT REPORTS:
2016 PARTING THOUGHTS:
Josh Grady Parting Thoughts: I | II | III
--In-depth look at Florida Football: Subscriber Q&A with Josh Grady I | II