Take Five: New Gators defensive backs coach Torrian Gray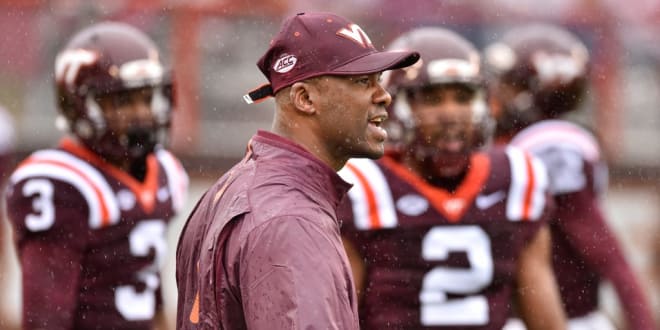 On Thursday, both Virginia Tech and Florida confirmed the Gators' addition of Torrian Gray to their staff as defensive backs coach after it was reported Wednesday that he'd be making his way down to Gainesville.
Now, Inside the Gators takes a closer look at who the Gators are getting in Gray.
FIVE NOTABLE STOPS ON HIS RESUME
1. Virginia Tech as defensive secondary coach (2006-15): Gray arrives at Florida after spending 10 years coaching defensive backs on former Hokies head coach Frank Beamer's staff. During his time in Blacksburg, Gray has built a reputation for himself as a strong secondary coach and successful recruiter.
2. Chicago Bears assistant defensive backs coach (2004-05): Gray spent two seasons on Lovie Smith's coaching staff, helping coach former Pro Bowlers like Charles Tillman, Nathan Vasher, Mike Brown and Jerry Azumah as well as former Florida safety Todd Johnson.
3. Connecticut defensive backs coach (2002-03): Gray spent two seasons in Storrs on Randy Edsall's staff. The team finished with 20 interceptions in 2002 and nine in 2003.
4. Maine defensive backs coach (2000-01): Maine was Gray's first stop on his coaching resume serving as a defensive backs coach.
5. Minnesota Vikings (1997-99): A former second-round pick in 1997, Gray saw his NFL career cut short due to a knee injury. He finished his pro career with 35 tackles, a sack, an interception and a fumble recovery.
FIVE NOTABLE PLAYERS GRAY COACHED AT VIRGINIA TECH
1. Safety Kam Chancellor: This is a name we've come to know well since the Seattle Seahawks' Super Bowl run two years ago. A second-team All-ACC selection in 2009, Chancellor was drafted in the fifth round in 2010. Since then, he's appeared in four Pro Bowls and made two second-team All-Pro lists in 2013 and 2014.
2. Cornerback Brandon Flowers: A former standout at Virginia Tech, Flowers has since made a name for himself at the pro level since being drafted in the second round in 2008. He spent five years with the Kansas City Chiefs from 2008-13, earning a Pro Bowl nod in his final year with him. He has since played for the San Diego Chargers.
3. Cornerback Kyle Fuller: After earning ACC honors throughout his college career - he was second team in 2011, honorable mention in 2012 and third team in 2013, Fuller was drafted 14th overall by the Chicago Bears in the 2014 NFL Draft. In two seasons, he's recorded 98 tackles, six interceptions and three forced fumbles.
4. Cornerback Kendall Fuller: Like his older brother Kyle, Kendall is projected by many analysts to go in the first round of the 2016 NFL Draft. A former five-star recruit, he made plenty of noise at Virginia Tech, earning All-ACC honors in 2014. However, his 2015 campaign ended early after undergoing surgery on a knee injury.
5. Cornerback Jayron Hosley: Gray has seen a handful of his defensive backs drafted in the third round or later - including Aaron Rouse, Macho Harris, Cody Grimm, Rashad Carmichael, Antone Exum and Kyshoen Jarrett - but of them Hosley is a memorable name that sticks out. A former Rivals250 recruit also from Delray Beach, Fla., Hosley was first-team All-ACC in 2010 and earned second-team all-conference honors in 2011. He has played the past four seasons for the New York Giants.
FIVE KEY STATS
1. During his 10 seasons at Virginia Tech, Gray's unit allowed just 185.0 passing yards per game and a 106.5 opponent passer rating – both ranking second in the nation over that span.
2. Opposing quarterbacks who faced the Hokies defense completed just 50.4 percent of their passes in those 10 seasons, the lowest percentage of any defense nationally. VT's secondary ranked in the top 15 nationally in opponent passer rating on eight occasions in Gray's 10 years in Blacksburg, including three top-five finishes.
3. This past season, Virginia Tech's pass defense (189.2 YPG) ranked 19th nationally and fourth in the ACC despite losing Kendall Fuller early in the season. Gray's group allowed opponents to complete just 49.6 percent of their passes, which was second-best in the ACC.
4. In Gray's 10 seasons with Virginia Tech, its defense finished in the top 10 nationally in interceptions five times and in the top 20 seven times. The group ranked as high as No. 2 overall in 2010 with 23 picks.
5. Over the past 10 years, the VT defense has finished in the top 50 nationally in pass breakups all but one of those seasons.
FIVE FACTS ABOUT GRAY
1. Gray, a Lakeland, Fla. native, was born on March 18, 1974. He is married and has two daughters.
2. With Gray on staff, Virginia Tech won two ACC championships in 2007 and 2008. The Hokies have gone 92-42 over the past 10 seasons.
3. Gray is a Virginia Tech alum, playing as a free safety for VT from 1992-96 and earning all-Big East conference honors during his last two seasons. He finished his college career with nine picks.
4. Gray was the third-longest tenured member of Virginia Tech's staff before his departure, after defensive coordinator Bud Foster and defensive line coach Charley Wiles.
5. Shortly after news broke of Gray's hiring Wednesday afternoon, he changed his Twitter bio to "University of Florida Defensive Back Coach. #DBU." You can follow Gray on Twitter @togray14.
FIVE STORYLINES TO WATCH
1. Will Florida remain a 'DBU' candidate over the years under Gray's guidance? Florida returns Jalen Tabor, Marcus Maye and Quincy Wilson to the mix but loses Vernon Hargreaves, Keanu Neal and Brian Poole. The group should be impressive again next years, but it'll be interesting to see whether Gray can sustain that success.
2. How well will Gray recruit at Florida? He arrives in Gainesville with a reputation as a strong recruiter in the state of Florida. In this capacity, he should be an upgrade over the recently dismissed Kirk Callahan. Expect Gray to help out recruiting in the Central Florida/Tampa region like Callahan did.
3. Will Tabor make the big junior leap under Gray? The UF standout finished with four interceptions and 14 pass deflections as a sophomore. He's primed for a big-time junior season, and the addition to Gray on the staff could do him good.
4. Will Chauncey Gardner emerge into an elite corner under Gray's coaching? An early enrollee and the No. 32 overall recruit in the class of 2016, Gardner arrives at UF looking the part as the Gators' next standout at corner down the line. How he grows under Gray's watch will be worthwhile to monitor.
5. Is the addition of Gray the final one this offseason to Florida's assistant coaching staff? The only UF assistant whose current contract does not continue into the 2016 season is offensive line coach Mike Summers, who saw his end Jan. 31, 2016. It'll be key to watch what happens with him and whether he receives a contract extension from UF.
----
MORE FLORIDA FOOTBALL & RECRUITING:
• Treon Harris practicing at wide receiver?
• Class of 2016 Recruiting Superlatives
• Video | Florida adds offensive firepower with Cleveland
• A closer look at Florida's post Signing Day football roster
• Coaches talk signees and early enrollees