Parting Thoughts: Anthony Harrell evaluates current Gators (Pt. 2)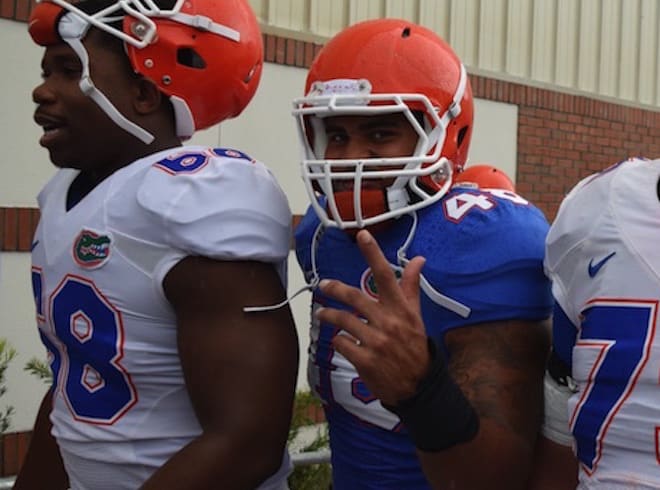 In the second part of Inside the Gators' "Parting Thoughts" interview with Anthony Harrell, the former Gators linebacker gives his breakout selections for 2016 and evaluated a handful of current players on the roster - including at his position.
Who are your breakout picks on both sides of the ball in 2016?
Harrell: Caleb Brantley. I think he'll be the next Jonathan Bullard on the defensive line. He's actually unblockable, really. On double-teams, he splits it. The only chance you got with him is double-teaming him. If you leave a single blocker on him he's going to beat him 75% of the time. He's quick, he's going to get in the backfield and disrupt the play. If he doesn't make the tackle, he's going to make the running back do a different move - he's gonna change the direction of where he was going on the first one.
We've got three great levels. You've got Caleb Brantley, you've got Jarrad Davis in the middle, which he's going to hold down. If Alex Anzalone can stay healthy, he'll be a breakout player in the middle along with J.D. Then on the backend, you've got Marcus Maye coming back.
I think Antonio Callaway is the best playmaker on the team. He'll have a great year again. I wouldn't be surprised that by the time he leaves Florida that he'll be in the Heisman race.
Are there any guys right now floating under the radar who you expect to make an impact in 2016?
Harrell: Jabari Zuniga, if he can get a little bigger. I feel like he had a lot of flashes on scout team and team runs throughout the year that he could have a pretty good impact. He redshirted last year. If he gets a little bigger, he'll be able to make an impact. He's very explosive off the ball.
Alvin Bailey, he'll have a chance to be a breakout player now that Demarcus Robinson's gone. Especially the running backs, I think Jordan Cronkrite and Jordan Scarlett, I think they'll have big years. And of course the new JUCO transfer (Mark Thompson), supposedly he's really good, so there's three running backs right there that should be able to carry the load taking over for a great running back in Kelvin Taylor.
A lot of people haven't had the chance to see Luke Del Rio in practices this year. What's your evaluation of how he looked and how he performed on scout team quarterback duties?
Harrell: I think he's a great quarterback, he's pretty good. He's smart. He completed a pretty good amount of passes versus us. I think he'll be pretty good and I think it'll be a great battle in camp and in the spring. It'll be a good battle with whoever they end up having at the quarterback position in the spring.
He's a pretty good player. He has a strong arm, smart, he knows how to read coverages. He doesn't really make any stupid throws or throw it away or throw a dumb pass.
Which quarterback that you've played against or maybe watched at any level would you compare Del Rio to?
Harrell: Drew Brees. Drew Bress isn't too big, Luke Del Rio isn't too big. He's smart. He can read defenses, make audibles, call out the Mike, call out them. He can see when the safety's rolling in Cover 3, Cover 2 Man, and make checks from there just like Drew Brees.
Of the offensive linemen who redshirted in 2015, who is the furthest along in your opinion and who would you expect to play a role in the rotation next season?
Harrell: Probably Brandon Sandifer and Richerd Desir-Jones. I feel like they're good run-blockers and they're hard to move - good inside guys who are hard to move. As far as passing goes, I don't really know too much about how they pass block. I've gone against them in team runs and stuff like that, but they're able to get to the second level.
Kylan Johnson arrived at Florida as a safety after playing quarterback in high school, but by midseason he was working out with the linebackers in practice because to a lack of depth at the position due to injuries. As he heads now into his redshirt freshman season, which position do you think he plays best: safety or linebacker?
Harrell: To be honest, he could play either one. He's one of the kids who is under the radar, too. I forgot to say his name. I think he could have a breakout year if he's able to pick up on the learning of concepts and plays. Because last year on scout team, he had just moved to linebacker too – he was kind of lost out there playing. I feel like if he's able to pick up on concepts and techniques and be able to read things, I feel like he could be a breakout player. A great player, a big linebacker moving forward because he has great speed. He has the ball skills. He's big, 6-3, 225. I mean, I was only 225 as a freshman, so that's really good. He'll be a great player once he's able to pick it up. Coach Collins and Shannon know what they're doing, so they'll put him in the best situation that fits him best. He could play Will linebacker too – I think he'd be a great Will.
What's your current evaluation of redshirt freshman linebacker Rayshad Jackson?
Harrell: He's young. He's a very hard worker. I think he'll be very good. He needs time to grow and pick up concepts and stuff like that. But his work ethic is pretty good, pretty exceptional. With more coaching and more time to grow, I think he'll be a pretty good player.
After an injury-plagued start to his Florida career, redshirt sophomore linebacker Matt Rolin finally played a key role for UF down the stretch. In your opinion, what does he need to do to improve and develop in order to blossom further?
Harrell: He has speed, quickness. He could get stronger and has room to grow. He was able to come in down the stretch and I think he tied the team lead in tackles versus Alabama. So he showed up in the big games when his name was called. He would lose focus because he wasn't playing as much at first, but he just waited on his time. That's pretty much what you've got to do at Florida, because there are a lot of good players. You've just got to show up when your number's called, and that's what he did. So I feel like if he could get a little stronger which he did well, he'll be fine. He'll be a pretty good player too. He'll be the starting Sam – he started the last two games there.
What did you see from Alex Anzalone this past season as he rehabbed his shoulder injury? What do you expect from him in 2016?
Harrell: He didn't have a pity party about it. He just went to rehab right away. He's a hard worker, he's very smart. He'll be fine. He'll have a good year – he just has to stay healthy. He could make calls very quickly, help others know were to get lined up. He's really the quarterback of the defense. You know, when he was hurt he still came to every practice. He helped me out with some stuff if I didn't know it. He's like a player-coach. He helps other guys out as well.
Daniel McMillian had somewhat of an up-and-down year as a junior seeing increased playing time. As you see it, what does he need to work on this offseason?
Harrell: Just continue to keep learning with Coach Shannon going over more film and being able to pick up the concepts faster so he doesn't have to think - he could just react. He's a great athlete. He's very fast. He could catch, he could jump – he could do all that. He just has to put all that together into one and be consistent. If he doesn't doubt himself and stays consistent, he'll be fine.
PART 1: Parting Thoughts: Anthony Harrell discusses time at Florida
Stay tuned with InsidetheGators.com past National Signing Day as we post more segments of our "Parting Thoughts" series and begin our annual "Redshirt Report" series, which takes an in-depth look at the 2015 signees who redshirted this past year.