Parting Thoughts: Josh Grady discusses his season at Florida (Pt. 1)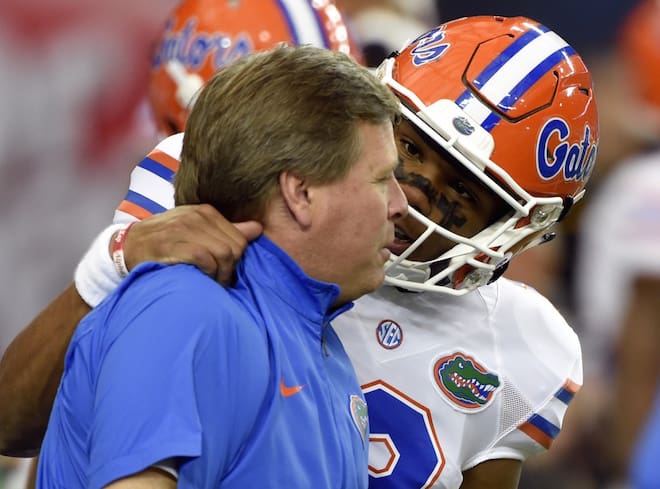 In need of more depth at quarterback last year, Florida brought along Vanderbilt graduate transfer Josh Grady last summer to compete for snaps and serve as a veteran presence for a young group of players at the position.
Overall, Grady's lone year as a Gator was a fun ride, as Florida finished with a 10-4 record, won the East division and reached the SEC Championship Game for the first time since 2009. Early in the season, Grady saw some time at receiver but later on served primarily as Florida's third-string quarterback behind Will Grier and Treon Harris.
Once Grier's PEDs suspension was announced midseason, Grady was just one hit away from seeing the field. Regardless, he didn't receive too many opportunities down the stretch - even in the wake of Harris' struggles. The 6-foot, 200-pound Grady finished the 2015 season with 10 yards on 2-of-3 passing, three rushes for 18 yards and one catch for 25 yards in five appearances.
Grady was nice enough to take a decent chunk of time out of his schedule and speak with Inside the Gators as we continue "Parting Thoughts" series. Throughout the offseason, we'll speak with a handful of graduating seniors and departing juniors about their experiences at Florida as well as an array of other noteworthy topics.
Today, in the first of a three-part interview with Grady, he discusses his 2015 season at Florida and what lies ahead in his future.
Now taking a look back at your lone season in Gainesville, do you think transferring to Florida was the right decision for yourself?
Grady: Looking back, I definitely feel it was a good move on my part. For one, Florida is a great place. My sister actually went here for six years, undergrad and then masters, so I was a little familiar with everything. But the University of Florida is just a great place to be as far meeting people. Obviously the football program speaks for itself, but the thing here in regards to the people that are here – meeting people, building a network – I feel like it's one of the best places for an individual my age at 23.
Overall, what did you learn the most from your year at Florida, and what did you truly enjoy from it?
Grady: Coming from Vanderbilt, obviously it's a different culture here. At Vandy, it's all about the grades and academics - it's very important. But there wasn't the right respect given to the football team, or even athletes in general. Even like the baseball team at Vanderbilt that won a national championship, you'd expect a little bit more respect going around campus. Whereas at Florida, if you're on the football team in general – I'm mean, obviously I didn't play as much as I wanted to – but if you're on the football team, there's just a certain respect that you're given by students, professors. For me, that's something that I love. Being a student-athlete, it's great knowing that your peers see you in a different light. As far as a culture that Florida has, it's great if you play football. Especially after a win, it's awesome. Fans love you, students love you, teachers love you. It's just a great environment, a great place to be at.
What's in your long-term plans now? What career do you have your eyes set on for the future?
Grady: My masters is in sports management and my undergrad was in economics, so right now I just applied to take the NFLPA agent certification test to be a contract advisor for athletes. I'm also applying for an internship with the NFL.
Just going back to your season at UF, what would you say was your favorite moment from it?
Grady: Probably everybody's favorite moment was when we beat Tennessee on that last play. That was one of the best finishes I've ever been a part of. On a last-minute play, 4th and 14, that was unbelievable. To be in The Swamp at that moment, it's something that I'll never forget. Just the environment, the electricity that was going through the air, it was awesome.
Another high point in the year for Florida was reaching Atlanta for the first time in six years. What do you think your team drew from playing in Atlanta against an elite Alabama squad?
Grady: Playing them, I think it kind of set a standard for players going forward. Alabama obviously sets the standard in college football, so for the younger guys to experience a game like that - like Quincy Wilson, Jalen Tabor, CeCe Jefferson, Caleb Brantley, all of those guys that are coming back – now they have a goal set in mind. Like, "OK, we need to be better than this." I think it gives them perspective to know, "This is how we have to operate. It's not good enough to be where we were at last year." So going forward, I think it gives them perspective but also motivation.
A big storyline surrounding Florida, especially later on in the year, was its offensive struggles. Why do you think the group struggled so much down the stretch after a decent start to the year?
Grady: Everybody wants to point the finger at Treon, obviously because when we had Will we were undefeated and then Treon came in and we end up losing four games total with him being a starter. But I think that's kind of an unfair thing to do. Towards the end of the year, after we sealed the deal and won the SEC East, I just think we lost focus as a team in general. More so on the offense, like our offensive line kind of lost focus, the receivers, quarterbacks, running backs - everything. That's just a matter of feeling a sense of accomplishment when there's so much more that could be done. So like I said, everybody wants to point the finger at Treon, but it was a group effort and something the younger guys will definitely take going forward. Hopefully they're able to grasp the SEC East championship next year, but then once that happens I think they'll keep their eyes on the prize, which eventually is the national championship.
A lot of other players on the team have mentioned that complacency kicked in after clinching the SEC East. Did you see a lot of that from players during Citrus Bowl preparation?
Grady: To be honest, I feel like a lot of guys were just tired at that moment. It's a long season, especially going to the SEC Championship Game. We ended up playing 14 games, so it's a long season. Your body wears down, and I think a lot of the guys got worn down mentally as well as physically.
A highly memorable moment during the year was the Grier suspension and how that all came about. How did you see the team react to the news when that came out?
Grady: At first, a lot of us were shocked - our quarterback, the guy who led us in some of the best games I've ever been part of in the Tennessee game as well as the Ole Miss game. At first, I think there was a little bit of shock, but then we were like, "OK, it's not just a one-man team." Antonio Morrison actually broke it down to the team. He was like, "Look, we just lost our quarterback. So what? We have another one. As far as the team goes, we dominated Ole Miss, Tennessee in all aspects, not just the quarterback position." So going into the LSU game, the offense was still clicking. We put up 28 points. So it wasn't like we were like, "Ah man, the season's over just because we lost Will." For the most part at the time, even though we lost him we were still optimistic.
When Harris and the offense were struggling out there later on in the year, were you ever frustrated that Florida never gave you a true shot to jump in and lead the offense?
Grady: I'd be lying to you if I said I wasn't frustrated. Honestly, I have extreme confidence in myself and my skills. Even talking to the receivers a couple times, they were hoping that I'd get a shot, because I know a couple of them were upset about not getting as many touches as they wanted to. It's definitely something frustrating - being an athlete, you always want your opportunity. But at the same time, I never let that get in between me and Treon, me and Coach or anything.