Gators Football Spring Preview: Wide Receivers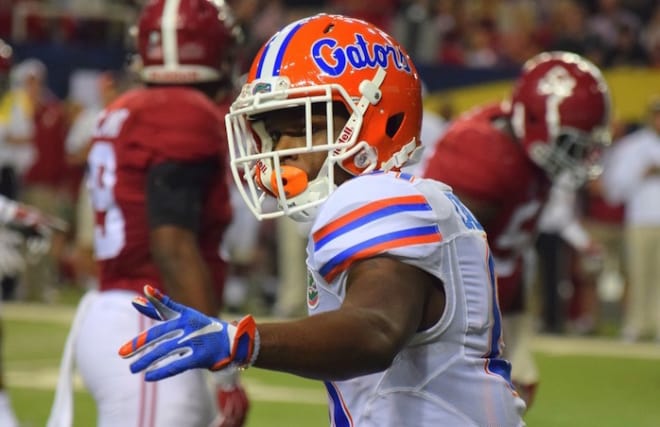 March 9 marks the beginning of spring football for Florida as Jim McElwain enters his second season as UF's head coach. As practices are soon approaching, Inside the Gators will take a position-by-position look at Florida's roster. Today, we look at the Gators' wide receivers.
RETURNING:
Antonio Callaway (sophomore; 5-11, 198)
Brandon Powell (junior; 5-9, 184)
Chris Thompson (senior; 6-0, 171)
Ahmad Fulwood (senior; 6-4, 208)
C.J. Worton (junior; 6-0, 195)
Alvin Bailey (redshirt junior; 5-11, 192)
Kalif Jackson (redshirt freshman; 6-4, 212)
Ryan Sousa (redshirt sophomore; 6-0, 195)
Treon Harris (junior switching from QB to WR; 5-11, 195)
NEW ADDITIONS:
Josh Hammond (freshman early enrollee; 6-1, 179)
Dre Massey (junior early enrollee; 5-9, 184)
Freddie Swain (freshman early enrollee; 6-0, 177)
POST-SPRING ADDITIONS:
Tyrie Cleveland (freshman; 6-2, 194)
Rick Wells (freshman; 6-0, 200)
GONE:
Demarcus Robinson (declared early for draft)
Valdez Showers (graduated)
Latroy Pittman (graduated)
Raphael Andrades (no longer listed on the official roster)
LAST YEAR: Many thought 2015 would be the year Robinson takes his game to the next level during a sophomore campaign where he recorded 810 receiving yards and seven touchdowns on 53 catches. However, that wasn't the case, as Robinson dipped during his junior season en route to 522 yards and just two touchdowns on 48 catches.
Meanwhile, Callaway shined as a true freshman. His electrifying playmaking ability - who could forget his 63-yard touchdown catch to beat Tennessee? - took Gator Nation by storm. During his debut campaign, Callaway racked up a team-high 678 receiving yards and four touchdowns on 35 catches. That's not to mention his two punt return touchdowns, one of which coming in the SEC Championship Game against Alabama.
As a sophomore, Powell started in the slot and had himself a decent beginning to the season. But after the switch at quarterback from Will Grier to Treon Harris midseason, there's no denying that Powell got lost in the grand scheme of things as the offense struggled immensely. Couple that with a late foot injury, and the close to Powell's 2015 season was somewhat disappointing.
Really besides those three, nobody else at the wide receiver position made all too much of an impact. Worton, Bailey, Fulwood and Thompson, who all return this season, weren't really much of a factor as sophomores or juniors.
KEY QUESTION: Can more playmakers step up and help out Callaway?
Callaway should be Florida's No. 1 receiver entering next season. After him though, there's a lot of uncertainty. Can Powell contribute at a more consistent level? Will any of the veteran wideouts, like Worton, Bailey, Fulwood and Thompson, finally step up? Will any of the new early enrollees, like Swain, Hammond and Massey, play key roles in their first seasons at Florida? Then there's the much-hyped Cleveland and Wells, who both arrive this summer. Can at least one of those two, especially Cleveland, serve a big role as a true freshman?
PLENTY TO PROVE: This spring is crucial for the four aforementioned veterans - Worton, Thompson Fulwood and Bailey. As exemplified by his 46-yard touchdown catch late in the SEC title game, Worton has the physical tools and skills to be a good receiver in this league, but his mental approach to the game and further learning the playbook are two areas he needs to improve on. Thompson saw some opportunities as a starting wide receiver last year but didn't do much with them. Then there are Fulwood and Bailey, two former Rivals250 receivers who haven't done much up to this point in their Florida careers. Can they break out in 2016? If not, UF's newcomers at the position could very well supplant them in the rotation.
THEY COULD SURPRISE: UF's early enrollees at wideout - Hammond, Massey and Swain - could each end up being impact players at the position. UF is in need of help at outside receiver to add a second threat alongside Callaway, and it addressed that need this recruiting cycle by landing two Rivals250 talents in Hammond and Swain. Massey, a four-star signee from the JUCO ranks, should make it a fun competition as well with Powell for snaps in the slot. How all three of those receivers perform this spring will be worth monitoring.
KEEP AN EYE OUT FOR: How much progress Jackson has made from his freshman year to the spring. As Florida's five newcomers at wideout have been the hot topic concerning the position this offseason, not very many have talked about Jackson, a former three-star recruit from the 2015 class. At 6-foot-4 and 220 pounds, Jackson adds a skillset to the position that not many of UF's current wideouts possess. It'll be interesting to see whether the under-the-radar Jackson can work his way into the rotation now heading into the second year of his UF career.
----
UP NEXT:
Tight ends
PREVIOUS GATORS SPRING PREVIEWS:
----
REDSHIRT REPORTS:
2016 PARTING THOUGHTS:
Josh Grady Parting Thoughts: I | II | III
--In-depth look at Florida Football: Subscriber Q&A with Josh Grady I | II